Visual content is not only sharable, leading to growth in your post reach, it's also fun and engaging. Think about the posts you pay attention to on Facebook and Twitter. Look at how websites like Pinterest have grown in popularity. So today I'm bringing you the different types of visual content you can create and share on your social media pages.
Photos
Photo-sharing has been in existence since the dawn of social media. It started with friends sharing images, and now brands are doing the same. Behind-the-scenes images are very popular, with followers wanting to know what goes on behind the computer screen. Potential customers and audiences want to see personality and character, and photos are a perfect way to show this.
Flat lay images (photos taken from above) have recently become very popular among bloggers. They can be used as backgrounds when creating graphics, and make great banners and cover photos. You can read more about them in my post, How I Learned to Create Flat Lay Images.
Graphics
Graphics are one of the most common forms of visual content we see on social media. From simple captions on images, to inspirational quotes, the simple graphic can build reach and engagement on your profile. If you're running out of ideas, here are some of the graphics you can create:
Fill in the blank
Interesting facts
'How to' guides
Motivational quotes
A snippet of a blog post
Photo captions
Offers / contests
A poll
Important days of the year
Infographics
What is an Infographic?
If you're not sure what an infographic is, take a look at Pinterest. It's full of them. You know those long graphics that have information packed in? That's an infographic. A good infographic is like a mini blog post in a picture. A bad one is overcrowded and confusing with too many colours.
You may think that are way too difficult to create on your own. But, using an image editor like Canva, they are pretty simple to do. They give you the templates. You just add in the information and choose the colour scheme.
Maps/Diagrams
Charts and diagrams are usually part of an infographic, but they also work well alone. If you have some great facts or findings, back them up with the visual evidence. Yes, graphs can be boring. But if you add a bit of colour and make sure they are labelled well; your audience will love them.
Videos
Social media loves videos. If you post a video, it is likely that it will reach a larger audience than your other posts. It's just how Facebook, and many other social media platforms, work at the moment. If you're anything like me, the thought of seeing your own face on video is horrible. But there are ways around it:
Take a video of what you are doing, just showing your hands
Use a screen recorder to show how you work on your computer
Ask someone else to be the subject of your video
If you have the budget for it, or have the knowhow, use animation
It's also worth experimenting with live video, as you can speak straight to you followers. It's a relatively new kind feature on Facebook and Twitter, so they are encouraging brands to use it.
What About Gifs?
Gifs are basically moving images. They started out as simple cartoons and sketches, and have now evolved into short snippets of video on loop. If there's an iconic moment in a film, or a funny video, there'll be a gif for that.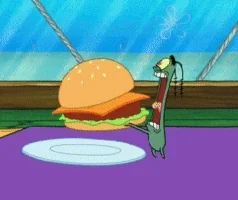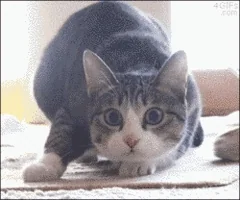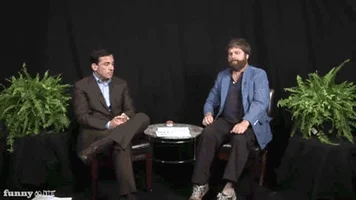 If you're looking for free gifs, try Giphy. Or if you'd prefer to create your own, try MakeaGif.com.
So That's Visual Content…
Now you know the different kinds of visual content, it's time to get creating. To save time you can create a bank of sharable images to use when needed, or schedule them ahead. Remember to look at trends and important days of the year for inspiration.
For more social media advice, check out the rest of the blog.